Highlighting Flotronic® Slimline Pump Advantages: Unique Features Rise Above the Competition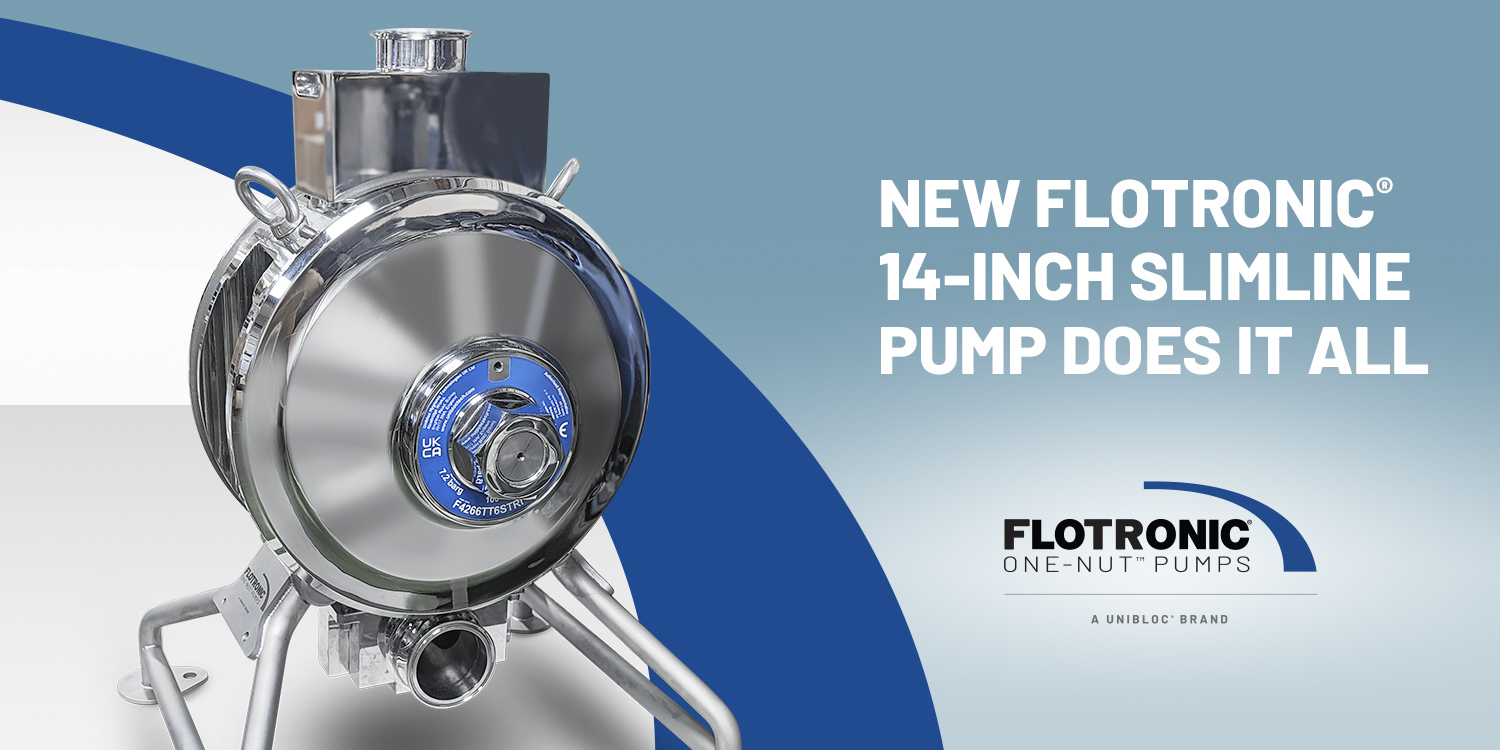 The realm of capital improvement projects in the food and beverage space is experiencing a notable upswing, with ambitious ventures paving the path to growth through innovation. However, this pursuit of progress comes with a significant cost. A major research firm that tracks industrial expansion and new developments within the food and beverage space reveals that these projects often carry a hefty price tag with multiple endeavors announced just this year by major manufacturers that surpass the $100 million mark for a single processing plant (according to a study from industrial market research firm IMI SalesLeads).
As companies invest vast sums to meet the growing demands of a dynamic market, the importance of optimizing every square foot of space becomes paramount. Equipment suppliers such as Unibloc® Hygienic Technologies rise to the challenge, introducing advanced and innovative technologies to help take advantage of every square inch of real estate and help maximize the return on investment for capital improvements. Such is the case with the introduction of the new Flotronic® Slimline 14-inch air operated double diaphragm pump. This new AODD pump and its cutting-edge design and capabilities align with the pressing need for efficient space utilization, all while elevating productivity and profitability in the food and beverage and other industrial sectors.
Unique Features of Slimline Pumps
CIP Compatibility—An Industry First for AODD
The Flotronic Slimline 14-inch model outshines the competition as the only AODD pump of its size that accommodates Clean in Place (CIP) processes. This exclusive feature alone makes it a game-changer for industries that need to combine high throughput with strict sanitary requirements.
Unlike other pumps that may require disassembly or be moved to the maintenance room for clean out of place (COP) procedures, the Flotronic Slimline pumps streamline cleaning cycles with CIP compatibility. Resulting in significantly reduced downtime and spares labor associated with maintenance to optimize plant efficiencies.
Proprietary One-Nut® Design: Rapid Maintenance Redefined
Unibloc offers its proprietary One-Nut design technology for its Slimline pumps, a complete rework of the traditional pump set up for this style. While competitors rely on multiple components that require lengthy disassembly and reassembly procedures often requiring special or multiple tools, the One-Nut design allows operators to swiftly disassemble and reassemble from a single nut.
This feature drastically reduces cleaning procedures from a typical two-hour window to a mere 15 minutes, for greater uptime, less labor, and more productivity.
Protecting Food Safety and Product Integrity
Protection of food safety within the food and beverage processing industry is paramount. The Flotronic Slimline Pump's streamlined maintenance process, due to the One-Nut design, mitigates the risk of introducing foreign materials or contaminants during dis- and reassembly of the pump—a process which increases risk of contaminants and is the main cause of damage to pump parts. This distinct advantage protects the pump and the final product making it a preferred choice for industries where hygiene is critical.
Another aspect of this pump is that it fully drains—a vital aspect of a pump that is CIP compatible. Food and beverage companies and pharmaceutical processors can ensure final product quality and save time with a pump style that drains completely once a cleaning cycle is complete, rather than risk having leftover chemical contaminate the next product batch.
High Viscosities, Enhanced Performance
In the realm of fluid handling, the Flotronic 14-inch Slimline Pump sets new industry standards with its capability to handle material viscosities of up to 100,000 Centipoise (cP). This unparalleled performance surpasses other pumps of its size offering higher processing power of comparable pumps and therefore greater flexibility.
Its larger capacity enables the pump to handle higher flow rates or larger volume resulting in improved transfer efficiencies. Whether dealing with highly viscous fluids in chemical processing or managing complex formulations in cosmetics and personal care, the Flotronic Slimline 14-inch AODD Pump ensures reliable fluid handling and operations.
Improve Plant Safety and Realize Cost Effectiveness
For industries requiring explosion-proof equipment, the Flotronic Slimline AODD Pump provides a reliable and safe choice. AODD pumps typically eliminate electrical components and rely solely on compressed air or gas to actuate the diaphragms, reducing the risk of sparking in environments with potentially combustible materials such as flammable liquids or gases.
Further, the Flotronic Slimline Pump's cost effectiveness is unmatched. With an upgrade cost equivalent to a single stripping operation for an existing pump, businesses achieve an instant return on investment (ROI). Coupled with reduced labor costs due to the efficient One-Nut design, this pump offers an attractive method to optimize costs without compromising on quality.
The Flotronic Slimline 14-inch AODD Pump from Unibloc Hygienic Technologies emerges as a standout in hygienic fluid handling, setting new industry standards for performance, safety and overall cost effectiveness. Its unique ability to conform to CIP procedures for an AODD pump of its size, the revolutionary One-Nut design and its impact on cleaning cycles, downtime, maintenance, food safety, and product integrity present clear differences in reference to competitors.
For more information about the Flotronic One-Nut Slimline pump series and other innovative engineered solutions, contact our engineering department at sales@unibloctech.com or click here.