Seven Reasons why the UltraLobe™ FoodFirst 700 Series Pump Solves the Industry's High Flow Rate Challenge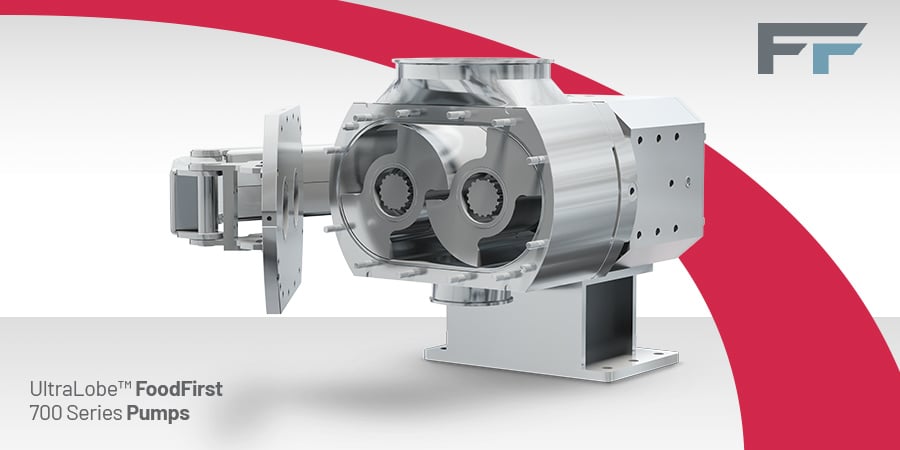 What's most important to you in your flow control application? Increasing flow-through rates? Preserving product integrity? Promoting plant and worker safety?
Unibloc Hygienic Technologies has spent decades studying and designing flow control solutions for the world's most demanding pump processing applications. We know exactly what you need to fight the daily battle against downtime and hygienic compliance. And we keep innovating to provide better products to meet your needs. Our newest product is no exception.
Meet the UltraLobe™ FoodFirst 700 Series Pump, the industry's largest capacity lobe pump. Plant managers and operators across multiple industries can use the 700 Series to attain pulse-free flow for shear-sensitive products.
Consider seven reasons why you need the 700 Series pump and learn how to maximize your return on investment for every square foot of floor space.
Gentle handling preserves product integrity

The larger the pump, the more difficult it is to ensure product integrity is preserved. That's why the UltraLobe™ is ideal for even the toughest high flow rate applications that demand gentle processing. The UltraLobe™ gently handles fluids with larger particulates that are sensitive to shear. Gentle handling preserves product integrity, which protects your profits.

For example, chicken processors require pumps with gentle handling in order to produce in-tact chicken breasts. If the breasts become damaged by the pump, they have to sell them for less or use them in other applications (e.g., ground chicken or chicken nuggets).

Streamlined systems that maximize floor space

The UltraLobe™ can be used in the same amount of floor space as Unibloc's smaller 600 Series pump, in effect getting more flow production out of the same floor space. Because processors can use a single line of 700 Series pumps to service all types of food product handling, there's no need for an additional vacuum system. Historically, vacuum systems allowed for more gentle handling of larger particulates but took up considerable space in the facility.

For example, many chicken processors utilized two different systems for handling their proteins — a vacuum system for whole chicken breasts and pumps for ground or sliced chicken. Now these processors can replace their combined vacuum line and pump system with a single pump line. Fewer pieces of equipment mean less overall maintenance and maximized floor space in the facility.

Increased capacity in a similar footprint

UltraLobe™ delivers the same advantages found in the QuickStrip® FoodFirst 600 Series yet increases volume in a similar footprint. UltraLobe™ at least doubles the flow rate of the 600 Series, offering up to 1170 GPM44 (29 LPM). Yet, the new pump is only about 20% larger than the 600 Series.

Typically, food processing plants use 6-inch diameter pipes, and UltraLobe™ is designed specifically to work with this size. This means you won't have to worry about installing new pipes to accommodate the pump upgrade, saving you time and resources. With UltraLobe™, you can seamlessly integrate the pump into your existing setup and enjoy enhanced performance without any hassle.

Adjustable RPM

In terms of RPM, UltraLobe™ matches and beats all competitive steel pumps in terms of RPM and offers an adjustable RPM scale. Processors can adjust the pump's RPM from 0-500 to suit their processing requirements.

For example, when processing polymers in the oil and gas industry, you can adjust the pump to run at less than 350 RPM. Running at this RPM prevents the polymer from turning into a cream-like product during pumping.

Improved product and worker safety

With a robust, durable gearbox at its core, UltraLobe™ features our signature, seamless design and porosity-free guarantee. It's made from 316L stainless steel, the preferred material for food contact equipment due to its resistance to corrosion and abrasion.

Because it's fully machined from a solid block of 316L stainless steel, the pump doesn't have any welds, seams or crevices, meaning there are no pockets that can trap products and harbor dangerous microorganisms. This minimizes product contamination.

As with all Unibloc QuickStrip pumps, UltraLobe™ comes with the industry's only safety swing arm, providing your workers with easy access to the pump interior without the need to lift heavy covers and risking injury. With our QuickStrip FoodFirst series pumps, we prioritize minimizing foreign material risks and maximizing food and worker safety — key considerations for food processing professionals like you. Rest assured, our pumps are engineered to enhance efficiency and ensure a safe working environment for your team. In addition, UltraLobe™ offers our other QuickStrip advantages:

Simple, repeatable one-way assembly

Tool-free design reduces damage during daily sanitation cycles

UltraLobe™ is CIP/COP capable and made with FDA-approved materials, making it the premier choice for 3A hygienic applications.

Easy cleaning and maintenance

Because the pump's safety swing arm holds up the front cover, it allows for easy cleaning. The arm also keeps the cover off the floor and free from damage.

UltraLobe™ features 316L stainless steel construction which makes it easy to clean and sanitize. The smooth exterior of the gearbox provides a nonstick surface that also simplifies cleaning. Its number four standard satin polish finish (32 Ra max) is universally accepted for food processing equipment for easy wet cleaning.

The pump's upgraded rotor design eliminated plastic, o-rings and rotor bolts. This aids food processing applications that require daily strip-down sanitation procedures.

Designed for multiple applications

UltraLobe™ is the perfect lobe pump for food and beverage operations, oil and gas exploration, chemical processing, and pulp and paper applications. For example:

In food processing, the pump is ideal for handling foods with large particulates, including whole chicken breasts and whole fruits.

In oil and gas, the pump can be used to handle polymers for fracking oil.

UltraLobe™ can be used to pump polymers in the paper mill industry, which typically requires pumps that are larger than those specified by the food industry.
As you can see, the UltraLobe™ 700 Series is a gentle giant that allows processors to increase production while preserving product integrity and safety. Want to learn more UltraLobe™ or any of our other innovative engineered solutions? Visit our website.
Unibloc Hygienic Technologies focuses on designing and building high-quality pumps with design features that supply solutions to common pump challenges. This enables smoother operations, easier maintenance and greater productivity. We build a variety of pumps in different styles and can help you select the right pump to best suit your application. Contact Unibloc Hygienic Technologies today.