Why Use An Air Operated Double Diaphragm Pump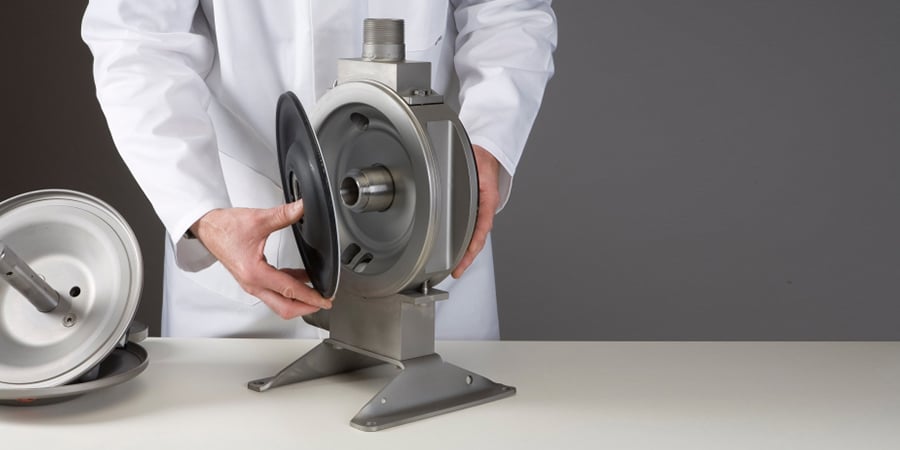 Why Use An Air Operated Double Diaphragm Pump
THE FLOTRONIC 'ONE NUT' RANGE OF AIR OPERATED DOUBLE DIAPHRAGM PUMPS OFFERS UNIQUE ADVANTAGES OVER ALTERNATIVE AODD PUMPS.
Easy maintenance:
The Flotronic pumps unique 'One Nut' design means that the pump can have diaphragms inspected or changed while remaining in the process pipework (Inline Maintenance).
This means that Diaphragms can be changed or inspected in less than 10 minutes without disturbing the process pipework.
An externally mounted air valve can also be worked on while the pump remains in the process pipework.
Compact Design:
The Flotronic Slimline range is slimmer and more compact than other AODD pumps offering similar flow rates.
Wide range of materials available:
Pump Main Body and Manifolds:
We produce pumps with the wetted parts of the main bodies / manifolds manufactured from a range of materials including; 316L Stainless Steel, Hastelloy, Duplex 22, PTFE (Virgin & Antistatic), Aluminium, Polypropylene, PVC.
One Piece Bonded Diaphragms:
Flotronic introduced the first PTFE faced Nitrile backed bonded diaphragm to the market in 1982. The Flotronic AODD Pump with its unique inside out design uses a shorter stroke than any alternative AODP, which is the key to our successful diaphragm; enabling us to achieve multi-million cycle Diaphragms. Flotronic manufacture and supply bonded diaphragms with either PTFE or TFM wetted face and a choice of Nitrile or EPDM Backing.
Our PTFE and TFM diaphragms are Manufactured using FDA, USB Class VI and (EU) 1935/2004 approved materials.
Solid one-piece Diaphragms are available in Nitrile or EPDM
Our Nitrile and Nitrile diaphragms are Manufactured using FDA and (EU) 1935/2004 approved materials.
Balls available in PTFE, TFM, PEEK, Nitrile, Viton, EPDM, 316L Stainless Steel, Hastelloy and Ceramic
Ball selection made with regards to Chemical Compatibility, Abrasion and the Viscosity of the product.
O rings available in PTFE, Encapsulated PTFE / Viton, Simrez, Nitrile, EPDM, Viton.
All O rings Manufactured using FDA, USB Class VI and (EU) 1935/2004 approved materials where applicable.

Up to 7 bar discharge pressure:
Liquid pressure in the delivery line can reach same pressure as the air pressure given to the pump to a maximum of 7.2bar.
Hygienic:
All wetted parts in 316L Stainless Steel, Hastelloy, Polypropylene, PVC & PTFE pumps are Manufactured from FDA and (EU) 1935/2004 approved materials.
PTFE Wetted parts are manufactured from USB Class VI approved parts.
Sanitary:
Fewer spare parts / lower cost repairs:
Up to 50% less parts than alternative AODD Pumps
Leak protection devices:
Fully Pneumatic Diaphragm Leak Protection available.
Electronic Diaphragm Leak Detection available
Customised pumps:
Flotronic can customise any pump in its range to meet a customer's requirements.
Easy to clean for hygienic/sanitary applications.
Pumps can be fully cleaned and drained using a

CIP rig up to 7 Bar inlet pressure

without the need to bypass the pump.
Can be fully drained without inverting the pump or any manual intervention.
Pumps can also be stripped down for cleaning or inspection and rebuilt in less than 10 minutes.
Up to 70% less product hold up than any competitive AODD Pump:
The unique inside out design with the liquid travelling through the middle of the pump means that there is no integral pump pipework to hold up product resulting in quicker more efficient cleaning, and less product wastage.
Able to pump high viscosities:
Able to pump higher viscosities than alternative AODD pumps, due to the 'Inside out' design.
ALONG WITH THE REASONS ABOVE TO USE THE UNIQUE FLOTRONIC 'ONE NUT' AIR OPERATED DOUBLE DIAPHRAGM PUMP; ALL AODD PUMPS OFFER THE ADVANTAGES BELOW.
Simple flow control:
Flow rate and delivery pressure can be simply controlled by altering the pressure and volume you give the pump with an air regulator / needle valve in the air line.
Dry running ability
Pumps can be 'Run Dry' without damaging the internals of the pump.
Self-priming
AODD Pumps are self-priming – Dry suction lifts of 4m and wet suction lifts of 8m are not uncommon.
Run against closed valve
If an AODD pump is run against a closed valve in the delivery line the pump will stop once the pressure in the delivery line reaches the same pressure as the air supply being given to the pump
No glands to leak
AODD pumps have a 'Seal Less' design with no glands or packing to leak around a main shaft.
Ideal for hazardous areas:
AODD pumps run on air and are therefore perfect for use in hazardous or explosive areas.
Wide range of products handled
AODD pumps are used to pump a huge range of liquids / powders
Low shear pumping
If your product is 'Shear sensitive' an AODD pump could be the answer, as one of the lowest shear pump designs there is.
Good solids handling:
Solids can be pumped with ease, with very little damage to the product
Portable & Easily Installed:
Compared with other pump types the AODD pump can be easily transported to the site and only needs an air connection to complete the set up.